Contact
Prof. Dr. Christine Volkmann
Faculty of Business and Economics
Schumpeter School of Business and Economics
Room: M-13.18
Gaußstraße 20
42119 Wuppertal

Phone: +49 202-439-3982
Fax: +49 202-439-2464
E-Mail: volkmann{at}wiwi.uni-wuppertal.de

Secretariat:
Mirjam Ballin
Room: M-13.17
Phone: +49 202-439-3979
Fax: +49 202-439-2464
E-Mail: Ballin{at}wiwi.uni-wuppertal.de
Consultation hour: Mon-Thu 10-12h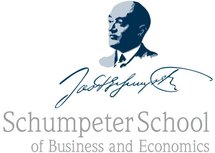 Entrepreneurship Report des World Economic Forum mit Wuppertaler Beteiligung veröffentlicht
Der Entrepreneurship Report "Educating the Next Wave of Entrepreneurs", an dem Frau Prof. Volkmann in Zusammenarbeit mit weiteren international renommierten Wissenschaftlern für das World Economic Forum maßgeblich beteiligt...
[more]
---
Studenten und Unternehmen am Puls der Wissenschaft
Bist Du dabei, wenn die Eventagentur VOK DAMS in der Uni Wuppertal Werbekonzepte von Lamborghini vorstellt? Wenn ThyssenKrupp über globale Konzernlenkung von mehr als 150.000 Mitarbeitern spricht? Und das Geheimnis der...
[more]
---