Contact
Prof. Dr. Christine Volkmann
Faculty of Business and Economics
Schumpeter School of Business and Economics
Room: M-13.18
Gaußstraße 20
42119 Wuppertal

Phone: +49 202-439-3982
Fax: +49 202-439-2464
E-Mail: volkmann{at}wiwi.uni-wuppertal.de

Secretariat:
Mirjam Ballin
Room: M-13.17
Phone: +49 202-439-3979
Fax: +49 202-439-2464
E-Mail: Ballin{at}wiwi.uni-wuppertal.de
Consultation hour: Mon-Thu 10-12h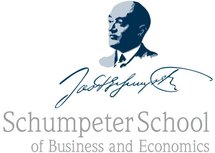 Chairholder: Prof. Dr. Dr. h.c. Lambert T. Koch
Head of Chair: Prof. Dr. Christine Volkmann
The Chair of Entrepreneurship and Economic Development at the Schumpeter School is at the heart of the university's thrust to live up to the idea of an entrepreneurial university with an international footprint.
Teaching:
Since 2001 the University of Wuppertal (Germany) is leading in well-known rankings for the best entrepreneurship education in German higher education institutions. Over the last decade following the idea of an entrepreneurial value chain from first thoughts about an entrepreneurial career to hands-on business formation and spin-off activities we have created a blend of differentiated entrepreneurship courses. Our offers are tailored to university-wide target groups – business students as well as students and faculty from engineering, science, architecture and design.
Projects:
We are integrated in bizeps, a regional new venture support network where players from inside and outside the university team up to support entrepreneurial ideas and projects (e.g. local business development agencies, technology parks, banks, consultants etc.). The bizeps project, which started in 1998, has been funded by the German Federal Ministry of Education and Research within the EXIST programme (a large scale, multi-million Euro initiative to promote university entrepreneurship at the national level). Our latest bizeps initiative focuses on entrepreneurial gazelles and serves to support university faculty and students to generate venture opportunities and develop high-growth technology ventures.
Research:
In entrepreneurship research and enterprise policy projects the Chair and our iEntire institute (Institute for Entrepreneurship and Innovation Research) work in numerous areas at various levels – for example:
Contribution to the World Economic Forum's effort to educate the next wave of entrepreneurs (white paper together with the US-based National Foundation for Teaching Entrepreneurship and the University of Cambridge's Centre for Entrepreneurial Learning)

Project on start-ups in the clean tech industry for the German Federal Ministry of Environment (together with the Wuppertal Institute for Climate, Environment and Energy and the University of Potsdam)

Membership in the expert group report "Entrepreneurship in Higher Education" for the European Commission (Enterprise and Industry Directorate Generale)

Co-operation projects with UNESCO's CEPES branch to promote entrepreneurship education in Eastern Europe.
We have a network of regional, national and international partners and enthusiastic students and welcome new partners to jointly promote entrepreneurship projects in research, teaching and industry collaboration, both on a national and global scale.
To learn more about our activities in supporting the formation and prosperity of new ventures follow the links on the left.